TESTIMONIALS
March 5, 2018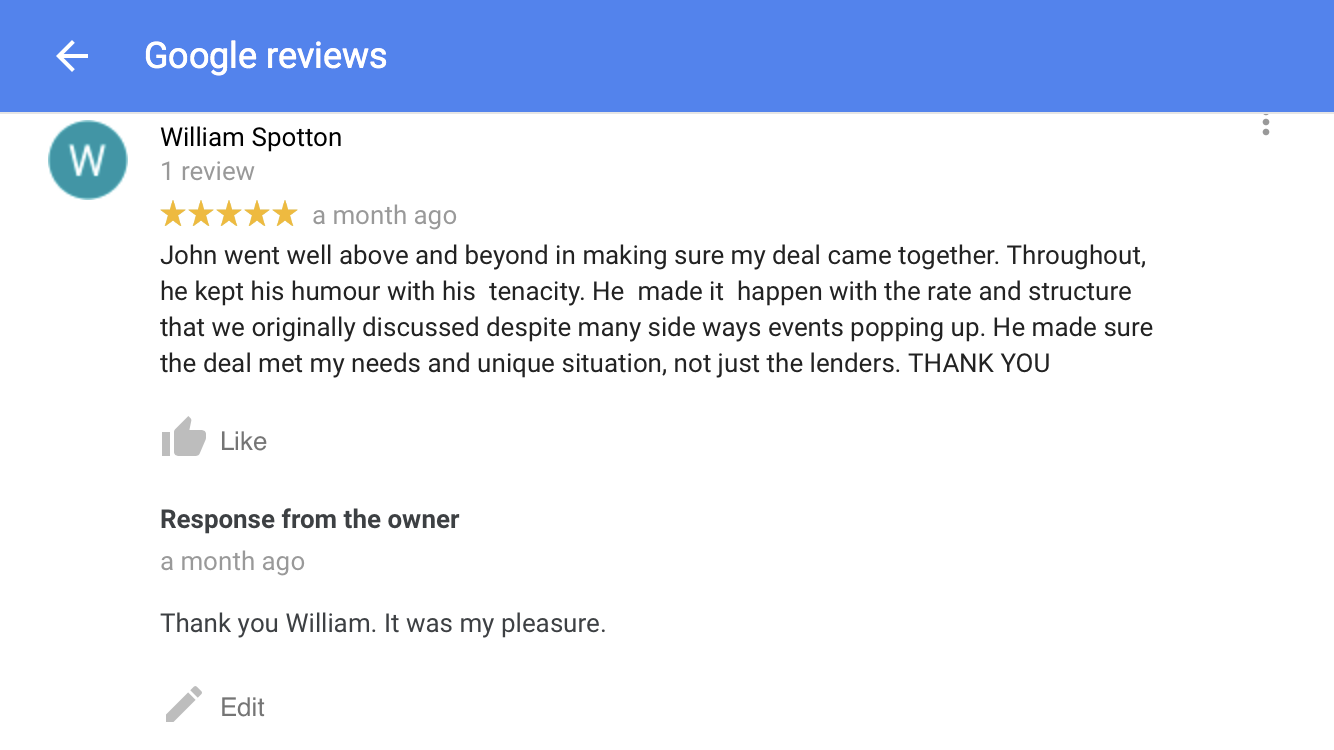 William - Northumberland County, Ontario
February 2018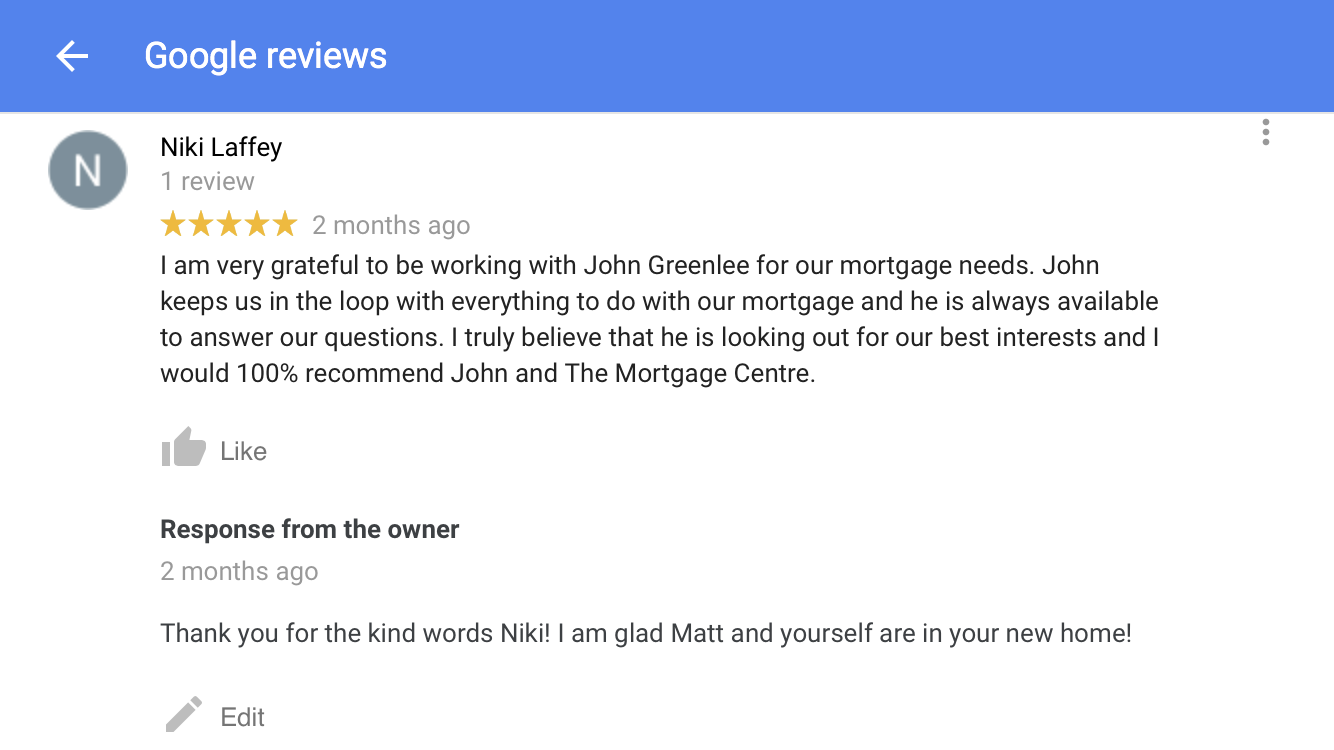 Matt & Niki - Brooklin, Ontario
January 31, 2018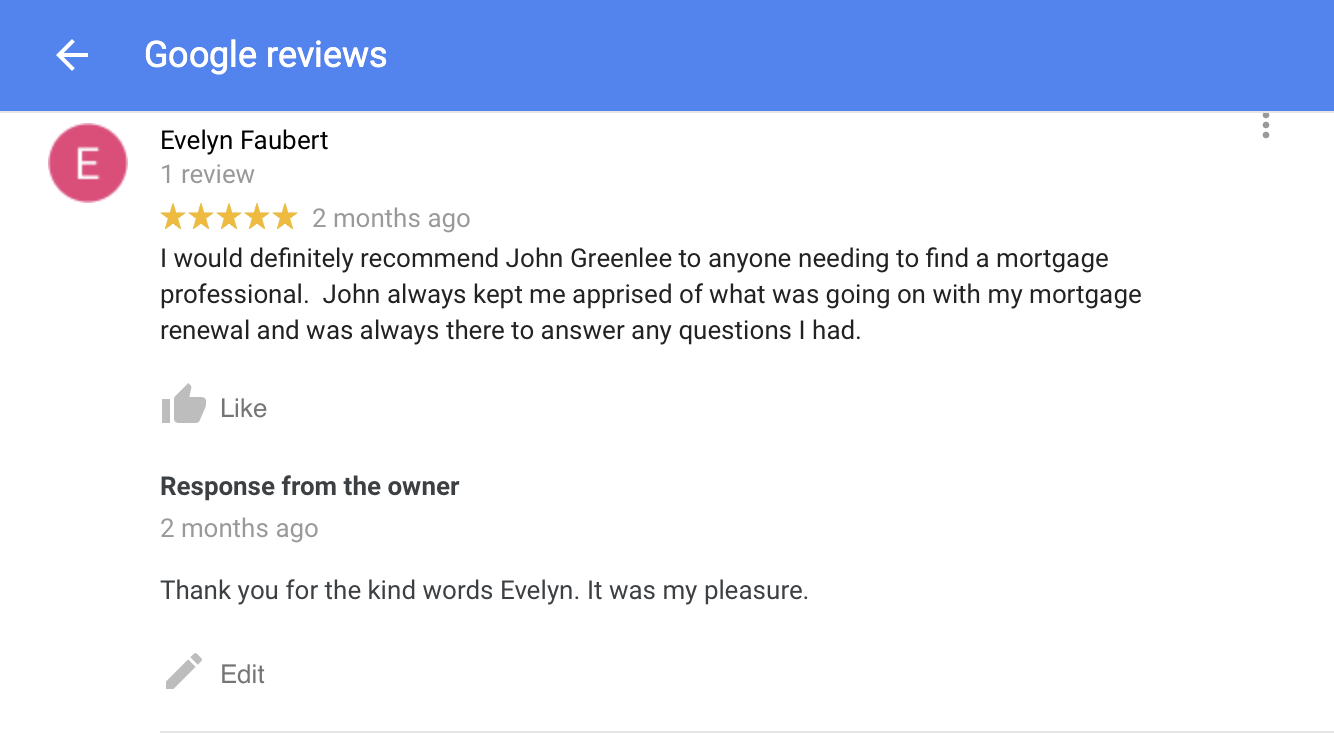 Evelyn - Courtice, Ontario
January 31, 2018
John's level of knowledge and how he was able to relay tht information so that we understood exceeded our expectations.  We would definitely recommend his services
Brenda & Stephen F - Peterborough, Ontario
October 19, 2017
I was so pleased with John. He always reassured me when at times I would worry about the refinance of my mortgage. He always got back to me when I called and helped me understand things better when I had questions. I would definitely recommend his services.
Debbie L - Oshawa, Ontario
September 17, 2017
John laid out a step by step plan for us that was easy to understand and follow.  He came through on time every step of the way. Thank You John.
John Z & Lisa E - Port Hope, Ontario
August 15, 2017
The greatest benefit about working with John was that he took the time to explain everything to us thoroughly throughout the entire process making it simple and not intimidating
Meagan C & James W - Gores Landing, Ontario
July 31, 2017
John's service is excellent. He is very knowledgeable and very patient in answering our questions. He always made sure we understood the information about our mortgage and made himself available to call if we had further questions. It was an all around great experience.
Brython R & Katherine K - Cobourg, Ontario
June 1, 2017
John's communication and speed at processing our mortgage application was wonderful!  He was pleasant, thorough and knowledgeable. Everything was great and we are very satisfied.
Sharon & Ian R - Roseneath, Ontario
April 13, 2017
I think it would be difficult to improve on your current service, it was excellent.  Your response time to any of my questions was amazing.  Everything went smoothly.
Paul J - Port Hope, Ontario
April 5, 2017
John was very efficient and we felt he had our best interests in mind at all times.
Al & Edith V - Cobourg, Ontario
January 13, 2017
We can't think of any way John could imrove his service.  He made sure our payments worked for us and we feel confident we have a great mortgage product and the best Mortgage Agent.
Mike & Britney W. - Courtice, Ontario
December 30, 2016
John gave us the best service possible.  He was honest and very willing to help.  Even through the issues we had with the lawyer's office, John took charge and was with us every step of the way to ensure that our deal was completed properly.  John listened to me yell, cry and just about have a break down and I honestly don't think I would have held it together without his reassurance.  John was knowledgeable, professional and courteous throughout and we won't hesitate to use his services again.
- Ray & Debbie G. - Oshawa, Ontario
December 19, 2016
Our renewal was coming up and John made the process fast and easy, with no stress.  He ensured we got the best rate, answered our questions timely and there were no hidden fees or rate changes! 
- Katie & Tyler J. - Ridgetown, Ontario
December 8, 2016
This is the second time I have used John Greenlee as my Mortgage Agent. He was always there for me and no question was too small.  He was so friendly and helpful.
-Rita U. - Belleville, Ontario
December 7, 2016
John was genuine, patient and knowledgable throughout the process of obtaining a mortgage for our first home.
- Kayleen & Eric M. - Newcastle, Ontario
October 12, 2016
John made us feel very comfortable and he was very professional throughout the process of our refinance.
- James & Colleen D. - Port Hope, Ontario
October 11, 2016
As First Time Home Buyers, John was great to work with! He ensured everything was explained properly and gave us helpful tips which made the process easier and less stressful.  We will definitely recommend him in the future.
- Riana V & Nathan M. - Westwood, Ontario
September 30, 2016
The best part about working with John was that we were able to call him, unlike the bank.
- Allen & Liz S. - Brighton, Ontario
June 15, 2016
This is the second time I've used John Greenlee as my mortgage broker. A lot of banks don't give a self employed income the same quality of service, options or trust.  John is a nice guy and is very professional.  He kept his cool during the process, even when I was frustrated.  I could be very "frank" with him without him taking offence.  I'd definitely recommend him to my friends.
- Larry H. - Uxbridge, Ontario
June 10, 2016
I was very happy with John's service.  The process was easy and not a lot of work on my part. His website was also fantastic and very helpful with all of the mortgage tools.  Overall it was great service.
- Tara W. - Clarington, Ontario
June 1, 2016
John was very flexible and available when helping us with our mortgage. We would highly recommend him in the future. 
- Darryl & Kayla N. - Courtice, Ontario
May 16, 2016
"The greatest benefit about working with John was that I could always get a response and depend on him. John was incredibly helpful. He always responded to email and voicemail in a timely manner and went above and beyond my expectations.  He explained my mortgage every step of the way and helped me any way he could."
- Loretta G. - Whitby, Ontario
May 16, 2016
"I had no issues with John Greenlee.  He was quick, friendly and provided me knowledgable service."
- Lesley M. - Whitby, Ontario
April 19, 2016
"Prior to meeting John, we had difficulty finding a mortgage lender because of our unique financial situation as we have many investment properties. John was very personal and cared about the success of our deal.  He went out of his way to ensure that all was in order and we obtained the financing we needed for another investment property.  We can't thank him enough for his assistance. We would not have been able to close the deal without his hard work and dedication. We would happily recommend John to our family and friends and he is a credit to The Mortgage Centre."
- Annette & Dan M. - Ajax, Ontario
April 6, 2016
 "I had difficulty qualifying for a ?mortgage before I met John. He provided a solution, excellent communication and exceeded my expectations."
 - Norman U. - Toronto, Ontario
 March 3, 2016
"Communication with our old Mortgage Broker wasn't great and it was always hard to get a hold of her. John made everything seamless. I've known John personally for many years and this was the first time I dealt with him on a professional level. I wasn't concerned about anything, he made us feel very comfortable and informed throughout the process."
 - Andrew W & Lori M. - Courtice, Ontario
February 19, 2016
"I have never been more satisfied as a client. Prior to meeting with John Greenlee I was receiving poor communication from the bank regarding the mortgage process.  As a fairly new comer to Canada I found this was difficult.  Then I was introduced to John and he changed all of that by always keeping me well-informed. He handled my mortgage for my new home swiftly and accurately."
- Marie M. - Brighton, Ontario
January 18, 2016
"5 years ago John Greenlee helped me get a mortgage to purchase my home.  5 years later he was there for me when I needed to re-finance my mortgage and wasn't sure where to begin. Working with John is a pleasure.  He is thorough, detail oriented and patient. He explained every detail and answered all of my questions with wonderful follow-up throughout the process."
- Jaqueline S. - Scarborough, Ontario
December 3, 2015
"Prior to working with John we were working with another Mortgage Agent who was not getting back to us in a timely manner. John was efficient, professional and to the point and we look forward to working with John again and again in the future."
- Nick & Jodie - Northumberland County, Ontario
December 2, 2015
"John Greenlee was able to find me the best rate and was able to work with my down payment and show me multiple options to get me the mortgage I needed. The entire process was excellent and a positive experience."
- Angelo M. - Bowmanville, Ontario
November 5, 2015
"John Greenlee explained the whole mortgage process very well, answered all of our questions and was very patient with our many questions. Overall we were very satisfied with the service we received"
- Stephanie & Alex - Oshawa, Ontario
July 14, 2015
"We didn't know much about getting a mortgage and John Greenlee was very helpful and answered all of our questions and explained the process. John was very informative & helpful.  For us, working with John was very convenient as we were still in Manitoba at the time we were buying property in Ontario.  John was flexible & able to work with us over the phone."
- Keith C. & Megan M. - Hastings Highlands, Ontario
May 12th, 2015
 "John Greenlee really explained the process for my refinance really well. Everything went smoothly and John was very helpful and available when I needed him."
 - Paul C. - Oshawa, Ontario
 May 4th, 2015
"John Greenlee was great to deal with. I had really short closing timelines and he was able to help quickly when the bank needed too much time to sort out my mortgage, even though they had pre-approved me! John was quick and friendly.  I am glad my realtor referred me to him!"
- Logan B. - Scarborough, Ontario
FEBRUARY 27, 2015
"Hi John,
I just wanted to say a HUGE thank you for all the hard work, and your dedication to make this happen. If you had not contacted me I would be still in a sinking boat only paying interest. Thank you for your patience, & your determination to get this done. From the beginning you told me you would do what it takes to get out of the mess the previous agent put us in. You kept your word and followed through with everything you said. I feel so much more at ease now, I can actually see a light at the end of the tunnel, and I owe all of that to you."
 - Cheryl D. - Pickering, Ontario
January 16, 2015
"Prior to dealing with John Greenlee we found a complete lack of communication with other lenders and they could not deliver on their promises. That all changed when we met with John and he was able to put a mortgage together for us quickly and efficiently when others could not. He was awesome and we would recommend him to anyone."
 - Chris & Aline. - Whitby, Ontario
December 19, 2014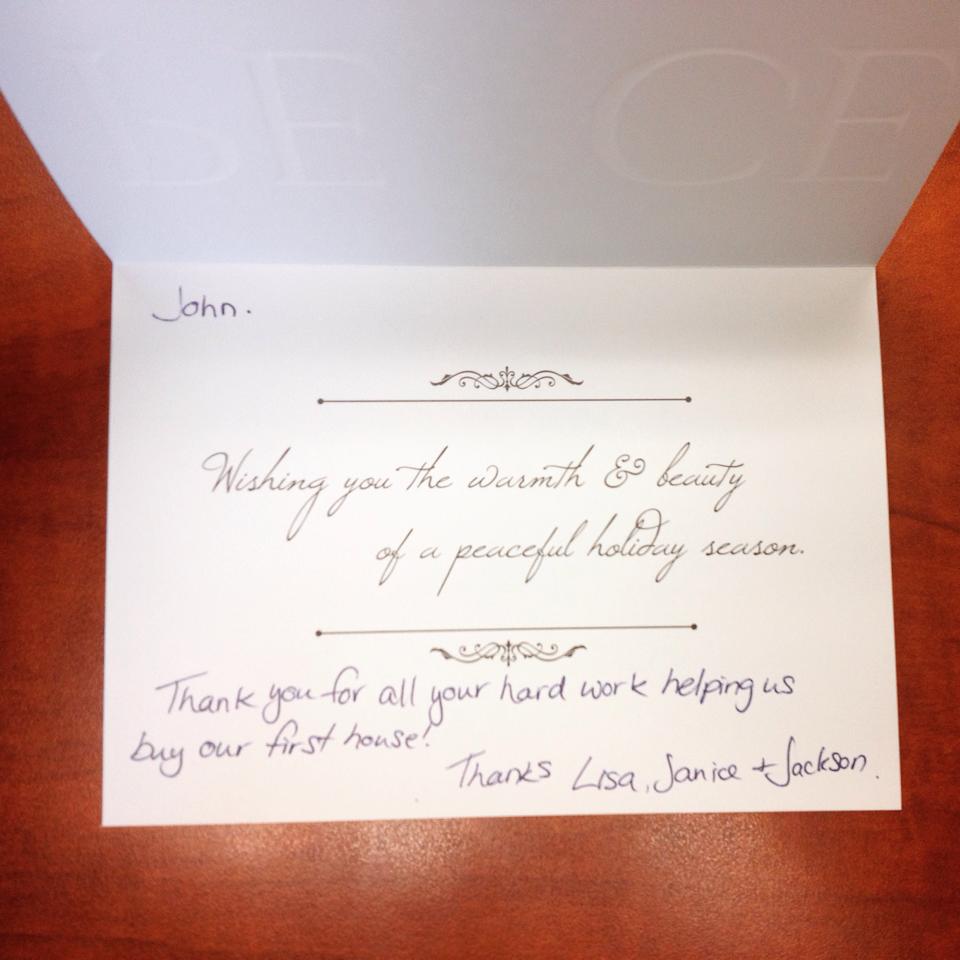 - Lisa & Janice - Toronto, Ontario
November 29, 2014
"John Greenlee was easily accessible, knowledgeable and patient. Great Service!"
 - Robert L. - Courtice, Ontario
November 22, 2014
"The single biggest problem I had before working with John Greenlee at the Mortgage Centre was a lack of communication from my previous lender. John solved this issue and was very helpful and knowledgeable about the mortgage process."
 - Matt L - Brooklin, Ontario
September 9, 2014
"We went to John Greenlee because trying to understand all of the different factors and differences that different lenders have was too overwhelming to understand on our own. John took a lot of pressure off of us. In trusting John to find and choose a mortgage that is right for us and met our needs it made our home buying experience more relaxing"
 - Justin M & Ashleigh G - Oshawa, Ontario
July 25, 2014
"I began looking for information in the fall of 2013 , about obtaining a mortgage. John Greenlee gave me a call soon after and kept in touch with me. I was very impressed. When I was ready I didn't even think of taking my business any where else. Thank You John!"
 - Rita U. - Courtice, Ontario
July 24, 2014
"John Greenlee was friendly, professional and kept us up to date with everything. He was knowledgeable and we will definitely deal with John again."
 - Cassandra K & Fergus C - Whitby, Ontario
May 12, 2014
"Thank you John, before coming to you we had trouble getting a mortgage loan with RBC, you were very quick, friendly and extremely helpful in securing our mortgage loan. Thank you so much for all of your help John, you were awesome and we really appreciate all of your hard work."
 - Stephen & Victoria M. - Whitby, Ontario
May 1, 2014
"Before working with John Greenlee we could not find anyone willing to help us with our debt situation. John was able to help us refinance and help us with our debt reduction. John also helped us regain our credit. Thank you John for all of your help!"
 - Andrew & Maria - Oshawa, Ontario
February 14, 2014
"John Greenlee was very easy going and very complete. He was a pleasure to deal with."
- Sylvio D. - Oshawa, Ontario